Asics Gel-Volt33
Asics Gel-Volt33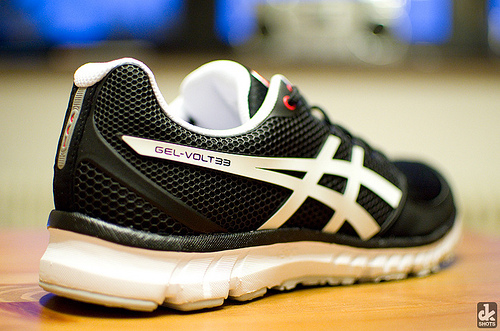 Image by dkshots
Nikon D7000 (35mm, f1.8, 1/40s, ISO 1000)
Today I felt in love with the design of this new ASICS natural running shoe and had to buy it! ..I'll use it in addition to my NIKE Free, my BROOKS PureCadence and BROOKS Defyance
……………………………………………………………………………..
ASICS GEL-VOLT33
"The new GEL-VOLT33 offers protection, flexibility, comfort and support in a more natural, stripped-back shoe. Perfect for serious runners, it has been designed to work with your foot, enhancing natural motion at every point in the stride. At the core of the shoe is the revolutionary Propulsion Trusstic™. It mimics the plantar fascia in the arch of your foot, harnessing your foot's energy to propel you forward. The full-length Guidance Line™ also promotes a more efficient run, encouraging optimum foot positioning from foot-down to toe-off. A lower, more flexible midsole gives you a more natural road feel and running experience, while a10mm heel drop puts you in the best biomechanical position for your foot. This lightweight approach doesn't compromise on support or durability. The GEL™ Cushioning System and durable sole ensure that your foot stays protected, without adding any unnecessary weight to the shoe."