USO Fitness Games – U.S. Army Garrison Humphreys, South Korea – 6 October 2012
USO Fitness Games – U.S. Army Garrison Humphreys, South Korea – 6 October 2012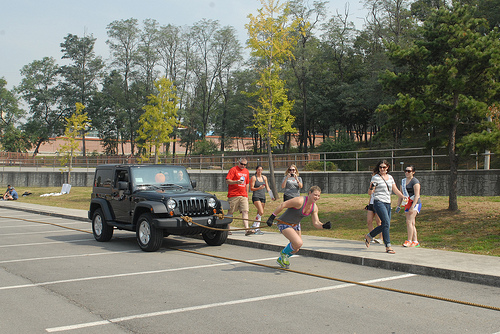 Image by USAG-Humphreys
Click here to learn more about Camp Humphreys
U.S. Army photos by Kendra Moore
By Kendra Moore
USAG Humphreys Public Affairs
CAMP HUMPHREYS — Fitness was taken to a whole new level as the United Service Organization (USO) hosted the first-ever Camp Humphrey's Fitness Games at Independence Park, Oct. 6.
"I didn't know it was going to be big like this," stated Spc. Mark Brown from Headquarters & Headquarters Service Company, 532nd Military Intelligence Battalion.
"USO, Humphyrey's Crossfit, and the Super Gym united to bring our community together to promote fitness," said Tami Hager, the USO Center manager.
The event started at 10 a. m. and had nine events to test strength, stamina, and skill. The unique obstacles included the Log Toss, the Hill Sprint, and the Humvee Pull. There was plenty of food, thanks to the Family Readiness Groups, and activities for children to make this day family-friendly. There were also plenty of prizes and giveaways.
"I think this motivates Soldiers to work out more," Brown said.
"When I saw them doing all of these events, I was like 'I need to get back into the gym', so I can do this next year!" he added.
There were four Gold, four Silver and four Bronze medals given out with prizes that included crossfit equipments, tours, and shows.
"We are here to motivate our friends and help them out," said Staff Sgt. Tony Persina from Headquarters and Headquarters Detachment, 719th Military Intelligence Battalion.
"Each event is not about the individual, but about motivating that person," he continued.
With over hundred competitors, the Fitness Games turned out to be more than just a competition.
"I think it's been amazing. All the volunteers did a great job and the structure had a great flow," stated Nathan Atkins, Manager of Reebok Crossfit Sentinel who was there to compete.
Capt. Danny Stokes may have summed up the event best when he said, "It's really cool, all the people that came together from all these different places, Fitness minded, in the spirit of competition."